Furnishing a home can be a fun experience, but it can also be stressful. How do you know which furniture to buy? Which style or theme to go for? How will everything fit into your allotted space? This last question can be difficult to answer especially for when you live in an apartment with very limited space.
Being able to maximize space and fit your furniture is already complicated even when you have normal square or rectangular shaped rooms, but what if you have a house that is full of odd spaces, tricky dimensions, and rooms with more than four corners? If you don't think carefully before you start buying your furniture, it can turn into a bit of a nightmare.
So what can you do to ensure you make the most of your space? If you have open plan living areas, it can be difficult to know how to break them up into separate spaces, but this can be done quite easily if you have the right furniture. Armchairs, for instance, are great for creating special little areas on their own; team one up with a floor lamp, table, and a little bookcase, and you've got your very own reading area. If you're sharing your space with someone else, and want to keep things separate, think about getting a room divider screen to make things more official (it will look better than drawing a line along the floor in chalk).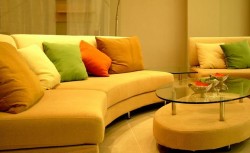 If you have awkward-shaped rooms (such as a wall pillar or nook area that creates more corners or walls than normal), you'll need to think about furniture that you can change, if needed. In a lounge or living area, a modular sofa would be perfect. Not only do they look modern and fashionable, but you can pick and choose which pieces to use and where, making the most of your odd-shaped space.
Whatever the dimensions of your rooms, with a little bit of imagination and creativity, you'll be able to furnish your home to fit both your personality and your needs.