The style, shape and size of a rug can change a room's whole appearance, so you'll need to choose the color and design carefully. Your final decision may be based on personal taste; however, there are some important points to consider.
Continuity
Using one style in different rooms creates a flow between them. It's also worth noting that a rug will look different during the day than at night so it is important to also consider the adjacent and surrounding decor before purchasing certain designs of rugs.
Natural light can make your rugs look lighter while artificial light can make it look darker. You can check out modern fabrics online to get a visual feel of the style you have in mind and to see how it fits your decor.
Patterned versus Plain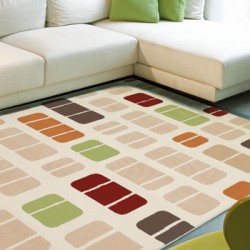 Plain rugs are typically more flexible to use than patterned as they'll co-ordinate with a wider range of furniture and wall coverings. However, plain rugs can also make large rooms look uninteresting. Generally it's advisable to opt for plain rugs if your furniture is colorful and bold. With that being said patterned rugs are making a comeback.
For more detailed information you can go through Terry's fabrics or other online fabrics stores to see the wide range of patterns to choose from, including classic patterns, contemporary designs or geometric patterns. There are also some beautiful Indian and Chinese rugs available in a range of colors and designs.
Patterned rugs can act as the focal point of a room if you have plain furniture and neutral colored walls. A patterned rug can also hide signs wear or accidental spills and are far cheaper to replace than fitted carpets.
Texture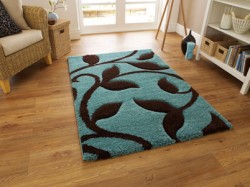 Including a variety of different textures in a room is hot on this year's interior design trends. Using a texture such as a faux sheepskin rug can add interest to a plain floor. Deep pile rugs are ideal for all living areas, adding a touch of luxury to bare feet when used either side of a bed or to wriggle your toes into when relaxing in the living room.
Color
Neutral colors are the most popular choices. It's much easier to create a color scheme around neutrals than other bolder colors. On the other hand, bold and strong colors add a more dramatic effect on your interior presentation.
Size and Shape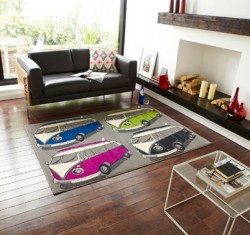 Make sure that you choose a rug which is the correct size for your room. Too small and they'll look disproportionate, too large and they swap the room.
The shape is also important, typically rugs are chosen to be placed under an item of furniture; for example a coffee table in a living room or dining room table, using the same shape as the furniture piece brings a peaceful and cohesive look.
Additional Advantages of including Rugs
– It's also advisable to avoid using large patterns in small rooms as they can make the room feel claustrophobic and cramped.
– Light colored rugs can make rooms appear larger, but they will show up dirt more than darker rugs, so using darker colors in high traffic areas is a wise move.
– As north facing rooms don't get as much sunlight as south facing rooms they can look cold and dark. Use pale colors to help lighten the room or warm it up by using warm colors such as reds, oranges or yellows.
– Patterned rugs are ideal for bringing variety into a room; they also hide dirt better than plain rugs.
Finally, think about where you going to place you rugs and then consider the several factors to help you get the very best options and choices. There's no one best rug to get, it all depends on your specific circumstances.