Before the days of divan beds, most mattresses sat on a wooden bed frame. In recent years, bed frames have made a comeback and today they are the popular choice for the stylish contemporary bedroom.
Your first step is to decide on your decorating style – for example, traditional, country cottage, contemporary or ultra-modern – and your color scheme, as both these elements will help narrow down your options.
Why super king mattresses are worth the investment
One of your first decisions will be whether to buy a complete bed frame or a headboard. A headboard will fit on to your current divan base but a complete bed frame, while more expensive, can provide a striking focal point for your bedroom.
In many cases, you may want to invest in a new divan or mattress at the same time. Super king mattresses are the best option for couples as they offer a substantially larger sleeping area than a standard double bed, improving your quality of sleep.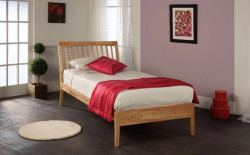 Wooden bed frames
Traditionally the most popular choice, wooden bed frames now come in a huge variety of styles. A good-quality wooden bed will be resilient, hard wearing and long lasting and can either be painted or varnished to show the natural beauty of the grain.
With sustainability a key consideration, today's buyer will want to know that their new wooden bed frame comes from certified wood from responsibly managed forests.
The most basic wooden bed is a simple pine frame with a slatted base. These are good value for money and easy to assemble, but are best used with a good-quality mattress as they don't always offer the additional support provided by a pocket-sprung divan base.
A more upmarket option is a solid oak bed frame. Choose from slatted wood headboards, modern panelled designs or elegantly curved sleigh frames.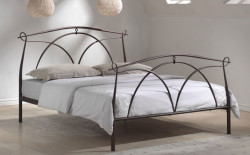 Metal bed frames
Metal headboards and bed frames have seen a resurgence in popularity and range from traditional designs of metal poles topped with bedknobs to sleek contemporary brushed chrome. As with wooden beds, metal bed frames can be finished with gloss paint.
Fabric bed frames
Fabric bed frames and headboards are not a new idea, but there are some fabulous contemporary styles on the market. Made from a variety of materials including cotton, linen, velvet and faux suede, these may come in plain neutral colors such as beige, pale grey or mushroom, or in bolder hues such as purple, red or black.
Leather bed frames
Sleek, stylish and hardwearing, leather bed frames are also very well suited to contemporary homes. Designs may range from simple bed frames to sleigh beds and Chesterfield-style headboards, or for the ultimate in luxury, white or black leather TV beds.
In all cases, if you order your bed frame and mattress online, make sure you choose a reputable supplier offering free delivery and easy-to-assemble options.