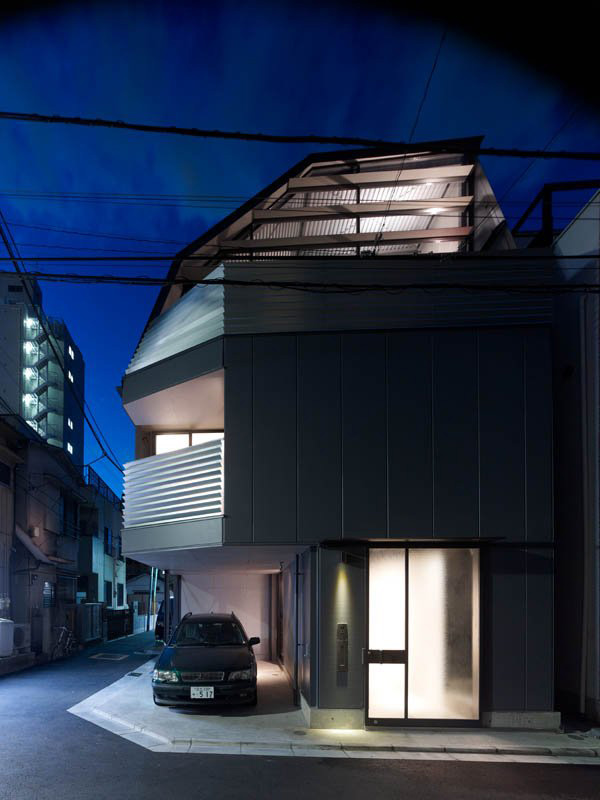 Japanese architecture is popular for carrying out the country's culture and tradition despite how modern the country has become. However, it was moving away from the traditional design and going for practical function plus the use of space that led to this efficient Japanese house.
I call it a smart house. Maximizing limited space will always be a challenge. With a house that lacks a lot of it, it is essential that there is purpose and function in the right areas. This is exactly what the house possesses. The rooms are divided not by solid walls, but they are given distinct areas in different ways.
The bedroom and bathroom for example, are actually in one room, but with a chic divider the proper distinction and separation of the two areas is made. The kitchen, study area and living room are also found on the same floor. This room really impressed me, with the way the living area opens and leads to the kitchen area smoothly, while a stylish study area sits on an elevated level above the kitchen area.
What makes this compact house work is also the architect's decision to place the bedrooms in the first and second floors and the living areas on the third floor. For most it would be unusual to be welcomed by a floor filled with bedrooms. But if we really look at it, putting the bedrooms on the lower floors allows for more privacy, while the being on the third floor, people won't just be enjoying the living areas, they'll also be able to enjoy the view.
Compact doesn't always equate with smaller or less. In fact, what compact should actually mean is "worth it". However, it is always quite challenging to find a quality compact home especially when you are looking for it in a heavily populated and very civilized city such as Tokyo.
With majority of the city's area covered with skyscraper and busy streets you may find it difficult to find a place cozy enough to hit the feeling of a comfortable home. But this didn't stop modern Japanese architect Keiji Ashizawa from coming up with a smart and unique compact house.