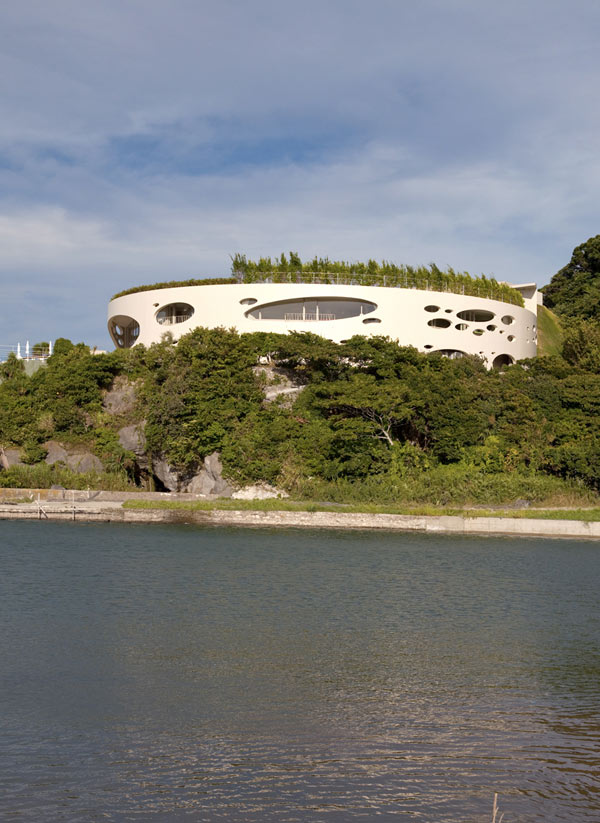 This modern round house is surely an attraction no one can ever miss. People will easily be drawn to the very organic features of this house. Because it is very organic and very modern at the same time, the house actually feels kind of alien-like. Well, its uniqueness is out of this world.
There are so many attributes that make this house stand out. First of all, it's built on the perfect location with the right type of view surrounded by this beautiful body of water. With windows like these, the house is surely destined only for high and open spaces overlooking something as breathtaking as the sea.
The second thing that really makes this modern house appealing is that it was designed to be one with nature. There are so many modern homes built on similar locations however they were designed to only allow people to see the view and not be one with it.
The recessed roofless courtyard in the middle of the house is one of its' best features. Not only that, the roof of the house itself is host to luscious greenery where homeowners can take strolls, sunbathe and relax while enjoying the breeze and the view of the sea.
Interiors also contribute in highlighting the surroundings. The theme carried out by the furnishings is comfort and minimal. Even inside the house there are wide spaces, nothing too crowded. And again, with windows as large as these, it is obvious that the focal point of the house is the natural beauty of the surroundings.
I think it is because the house was designed and built to be one with nature that makes it stand out. Although it is very modern, it has set an example of how the structure of homes for the future generation should be –modern, stylish and sophisticated but above all, nature friendly.