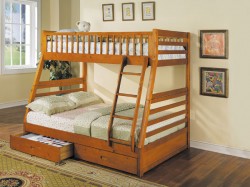 A bedroom is definitely one of the most important rooms in the home. For many, and I assume for you as well, it is a place of refuge after a long and stressful day at work and school. It is a sacred space for all, but in some cases you will probably need to share this sacred space. Unfortunately, we sometimes need to share this sacred space, so if you're looking for the perfect piece of furniture for this kind of potentially awkward arrangement, a bunk bed is a great option.
Space Saving Furniture
Bunk beds can help you save space because of the way it is constructed. Instead of having two beds which take up more floor space, a bunk bed will only take up the floor area of a regular bed. This is because the beds are placed on top of one another. Some bunk beds even have pullout beds under the lower section, so you might even get to accommodate another person in case of an impromptu sleepover.
Saving space with a bunk bed can be extremely handy especially if you live in places with limited space like a condominium unit or an apartment. Bunk beds are also useful in a dormitory or any other kind of communal living space. Or, as a matter of fact they can also be useful just if you are sharing a room with a brother or a sister.
Privacy For You
If you are sharing a bedroom with another person, no matter how close you are with that person, I am pretty sure that you would still like to maintain boundaries and keep your privacy. You can spare yourself the horror and inconvenience of having to share one bed with this person with a bunk bed. Because the upper and lower bunks are separated, you can have a healthy amount of privacy even while staying in the same room. This can be very economical without having to give up your personal space.
Solo Use
I have been talking about the advantages of a bunk bed when sharing with someone else, but I believe that bunk beds can still be useful even if you are on your own. If you have a bunk bed but you are not sharing it with anyone else, you can still make it useful by transforming either the top or the lower bunk into a storage space or another useful space. Some of my recommendations are, transforming the lower bunk into a study table or a work space. This can be done with only minor reconstructions. If you prefer to keep the lower bunk as a bed, you can use the top bunk as a kind of shelf for books and other materials.
If you are already looking for a bunk bed that you can use, I suggest getting a Walker Edison bunk bed that you can buy at Amazon. These things are simple and useful, and are a great option if you want a no fuss piece of furniture.