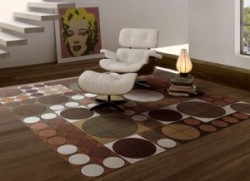 I believe that every decorative piece in a home, no matter how minor, makes a big difference. You have probably learned this lesson as well when purchasing seemingly minor items like drapery or frames or lighting fixtures. Every piece in your home has to be strategically placed, and contemporary rugs are no exception. If you are buying a contemporary rug for your living room or your dining room, I have a few suggestions that you might want to consider.
Go For Color
With other pieces of furniture, we tend to stay on the safe side and go for traditional styles. For example, it is likely that you will get a couch in a nice, neutral color like beige or cream or white instead of a loud red or a burst of yellow. However, with an area rug you definitely have more freedom. A contemporary area rug is a more versatile piece and can be the source of color in your otherwise dreary living room or dining room. Be as adventurous as you want – get a wild pattern, an irregular shape, bold and clashing colors. Unlike a couch or a lighting fixture, you can easily get a new one anyway.
Picking The Right Size
I find purchasing the most attractive area rug that will fit my home very exciting, but my reminder to everyone is that the style is not everything. The size of the contemporary area rug that you will be purchasing is just as important. Try to purchase an area rug that is proportional in size to the rest of the room. For example, if you have a relatively small living room, get an area rug that will cover no more than half of the floor area. Especially if you have taken my advice and decided to get an area rug in a loud color and distracting pattern, it will just look silly if the rug was too big for the room. One indicator you can use is the focal piece in the room. Get an area rug that is slightly bigger than the couch or table that is the center of attention in the room. Obviously if it were smaller then it would be of no use, and an area rug that is too big will just overpower it.
Affordable For Any Budget
The perfect area rug does not need to burn a hole in your wallet. Most area rugs can be purchased at a reasonable price, but the more important thing is for you to know what budget you are working on. Knowing how much you are willing and able to spend will help you make the right purchase – one that you will not regret later on.
The internet is a great place to find new and affordable area rugs in really attention grabbing detail and design. You can find the brand Home Dynamix on Amazon, which offers area rugs of different shapes and patterns. All you have to do is take your pick.