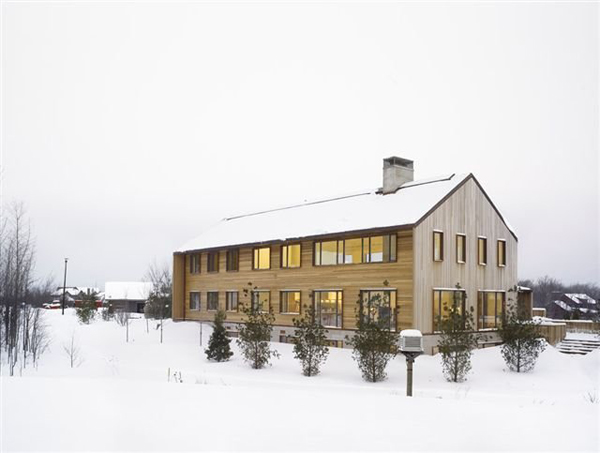 Collingwood in Ontario, Canada can only mean two things–cool ski spots and warm cabins. At the foot of this hill is exactly where a modern ski cabin belonging to a family of six can be found. A project by AKB (AtelierKastelicBuffey), this cabin has definitely redefined the heights for what a modern and chic ski cabin should be.
From the outside, a simple but sizable structure with the traditional wooden facade, passersby may easily judge this cabin to be like the rest of the cabins in the area–only taller. Like any other ski cabin yes, this one has gone with the traditional look but as always, never judge the book by its cover.
Inside, it's an entirely different story. If the exterior was designed to blend in with the common facade of ski cabins in the area, the interior was definitely planned to stand out. The first breathtaking feature of this ski cabin is the height of the ceiling. There is just so much space and height inside that everything feels so breezy and warm at the same time.
Just by looking at the interiors, it is obvious that the most important element of this cabin is space. Really, I mean they probably rehearse skiing inside the house! Because of all that space it is easy to appreciate key elements that give a lot of modern character and personality to this house.
The middle is undeniably ruled by the floating fireplace. Yes, it acts as a separator for the living and dining area, however as an individual piece itself, it draws a lot of attention in the room. the beam towards the ceiling also reminds people of the height of the room, making it look higher than it already is.
The warmth of the exterior is balanced by the cool modern pieces. It is a ski/vacation house built for modern comfort. I appreciate the humble facade and stylish interior. Definitely, staying in a warm ski cabin has never been this cool!