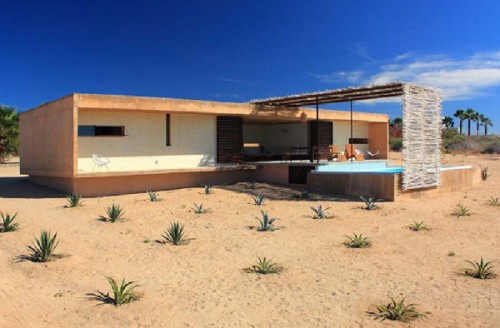 A certified beach-lover would know that there is so much more to Mexico than just homemade tacos and beef burritos. When it comes to having the ultimate sand and sea experience, Mexican shores are definitely one of the best destinations.
One of the things that makes a beach experience memorable is the accommodation. If you're an outdoor, nature-loving person then you may probably settle for tents by the shore. On the other hand if you are a bit more of the indoor, luxury-loving type then you may have made hotel reservations months before your trip. But what if you're a group of both?
The Gregori residence, a beach house in Todos Santos in Baja, Mexico is a bungalow-style house and is something I would like to call a "simple masterpiece". Gracia Studio has designed this beach house out of a humble concept, not drawing too much attention to the structure but instead, highlighting the natural beauty of the surroundings.
The beach house faces the shore and the waves while on the opposite side is a background of mountains. The house itself offers a stylish ambiance with its tiled interior, large folding-glass doors, and woven grass shades. Staying in and just enjoying the view won't be a bad idea.
If it's the heat that's keeping you from having a good swim in the beach, this stylish bungalow is built with a spacious deck that hosts a pool. The woven grass shades makes the heat tolerable during the day and makes swimming safer at night. Even your luxury-loving buddies couldn't say no to that!
The best thing about this stylish bungalow house despite being a residence of the Gregori family, they make it available for rent during vacation. There are two of these stylish bungalows available so if you're a really big group then that won't be a problem.
So the next time you go to Mexico, you know where to get the stylish outdoor experience. Instead of hitting the hotels try a more private accommodation and focus more on what you truly came to Mexico for -the beauty of its beaches.