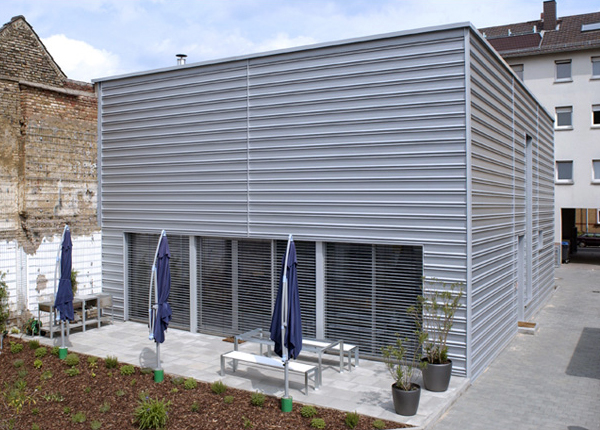 Most often, architects would really like their works to stand out and be different. In order to do this, they usually think beyond the box. On the other hand, German architects grabowski.spork chose to think within the box and built a house inspired by it! The cube house in Frankfurt, Germany is certainly one of those structures that's more than what meets the eye.
Aluminum is the facade all through out this cube structure. At first impression, you would easily say that this building is a warehouse! However, the very industrial look of the facade is balanced by the chic and modern interiors of this cube house. Because of the monochromatic facade, the house looks even smaller, but allow the interiors to tell you otherwise.
Inside the house feels very light. A high ceiling, white walls and modern yet casual furniture makes you feel right at home. Artworks hanging on the walls give the interior of the house more interesting character. The floor has a concrete finish that gives the house a bit of rustic feel. Overall the house feels very modern and minimalist.
Other great features of the house would be the fire place surrounded by a sitting area. Along the same area is where you can find the spiral staircase leading to the second level of the house. Thanks to the high ceiling the second level is visible. This causes the house to feel bigger and very spacious.
Glass doors on the ground level lead to an outdoor area where homeowners can entertain guests and have barbeque with friends. At the same time these doors allow natural light to enter the house, giving it the feel of warmth during the day.
The house is unique in its shape, it is very modern, casual and comfortable in a very stylish way. Homeowners surely enjoy the very open feel of the entire strucure. Whoever said thinking within the box can't get you creative results?