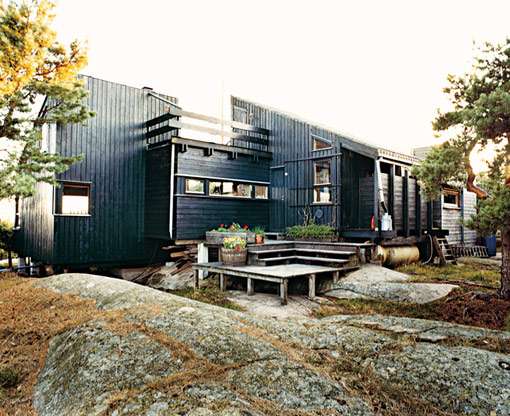 No matter how beautiful houses are in the city, some people still tend to build a second home in the country even if they don't get the chance to go there as much. This is because beach houses and cottages have a few things that the city does not–that is genuine peace and quiet.
German architect Jurgen Kiehl and his wife know that there is nothing like the comfort that comes from cozy cottages. This is probably why they came up with this project, a cottage inspired home that brings them closer to nature. The inspiration of this home, an 800 million old stone slab sitting beneath the cottage itself.
Just as cottages should be, this home was designed to be earthy but cozy, rustic but warm and comfortable at the same time. Summers in Norway come as a very brief season and this cottage was designed with the thought of making the most out of the limited time.
Sleeping in the cottage gives you the feeling that you're camping out. This is probably caused by all the natural materials used for building the cottage. The interiors show how the intent of the homeowners was not to live in luxury but to live in warmth in their own comfort, something that I really admire.
The kitchen is very rugged, which gives it its own distinct character. Just by looking at it, you get the feeling that hearty meals are constantly prepared there. The living area with the vibrant fabrics on the pillows and the benches is quite stylish while maintaining a very minimalist concept.
One of the most interesting features of the cottage would probably be the staircase. The steps look like they were bolted into the wall as separate pieces. Without railings to hold on to, I'm sure some would be hesitant to take the first step.
This house is a picture of warmth and comfort. It is the perfect example of why people still invest in having vacation homes despite having homes in the city. People will always find time to rest from their busy lives and trade it for something simple and relaxing.