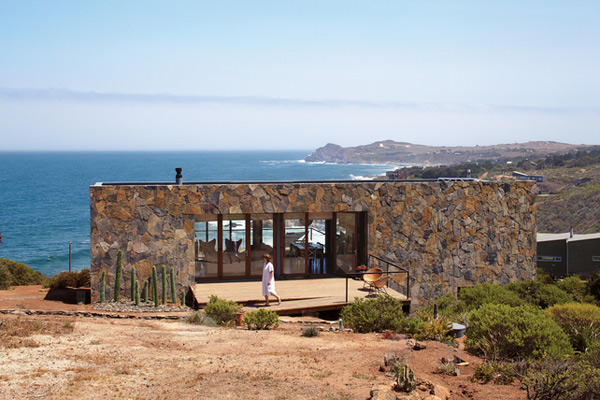 What do you get off living by the ocean? A bigger view of the sky, endless days of breathtaking sunsets, the relaxing sound of the waves, and of course living everyday like your on vacation. No wonder people are drawn to live by the shore. It is the perfect spot for anybody's dream house.
People who live by the ocean know for sure that although it would be great to live in a luxurious home, it still is all about the beauty of the surroundings. It's the beauty of the ocean and the things you get to do that got you living in that area. Because of this, homes by the ocean ideally highlight it's beauty and make it the focal point, the star.
This is exactly what Foster Bernal Arquitectos did for a beachfront project in Chile. This beautiful project is built on a cliff overlooking none less than the Pacific Ocean. The house is all about being eco friendly and sustainable at the same time. It is both a stylish and fully functional home by the sea.
With photovoltaic panels, a gravity-fed well, a wind turbine, and passive cooling and heating systems, this house easily gets a two-thumbs-up from mother nature. Another way to highlight the beauty of this areas natural resources was by using local wood and stone for the facade of the house. No wonder it fits it easily.
The rear area of the house is a patio after a facade of glass doors and windows. The view is seen from the interior and appreciated more outdoors. Homeowners are surely blessed! Having this home is like living your life daily in paradise. When you've got the pacific ocean on you back yard, is there anything else can you even ask for?