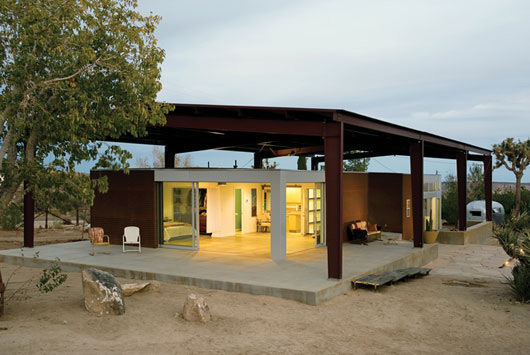 As the saying goes, "if you can't take the heat, get out of the kitchen" but when you're in the middle of the desert, do you even have a choice? Living in the desert is a challenge. Without enough vegetation in the surroundings and exposure to very high temperatures, it can surely take away the sweetness out of home sweet home.
Architect Lloyd Russell took on the challenge of building a desert home that would cater to the comfort needs of homeowners. This project built in the heart of the Pioneertown in California was named the "ultimate dessert structure". It is a desert house that says two things–simple and sustainable.
The star of this project is not stylish interiors or fancy facades, but a steel canopy. The idea was building a house within a shelter that shield the main house from direct heat. The steel canopy serves three purposes. It serves as a shade, it reflects the rays of the sun, and lastly, it allows wind to pass through allowing cool breeze into the main structure.
In terms of design trend, the house is very simple. It has a nice openness to it thanks to its large doors and windows. This actually creates a breezy feeling indoors despite being in the desert. The concrete patio leading indoors keeps a consistent rugged feel which in turn also give it style.
The best thing about this project is that it is made from recycled materials. The architect was able to take the old, design something new and use both to build a simple, yet stylish, functional and of course, very comfortable home in the middle of the desert! Now that's cool!