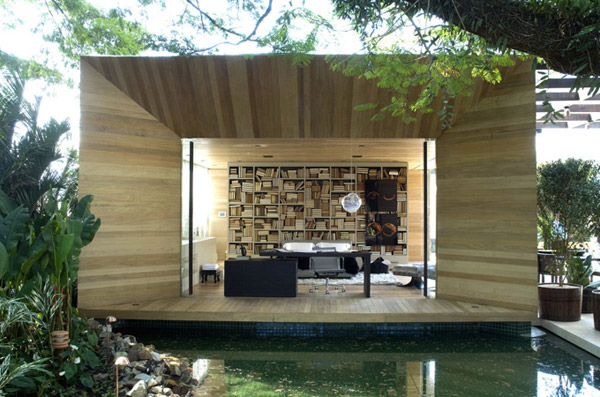 For years and years people have been trying to imitate the beauty of nature, incorporating it in architectural designs, interior concepts, and using it as inspiration for furniture and fixture. Organic designs and eco-friendly has become a popular theme for homes nowadays. The more nature you have the better.
Sad to say living on tree tops may not be ideal for the lifestyle of most. However this does not mean we can never get the authentic feel of being truly one with nature. Sao Paulo contemporary architecture by Brazil architecture firm of Fernanda Marques has gone beyond the boundaries of walls that keep nature outdoors and gave more meaning to the nature inspired home.
The project built within a limited space of 2,700 sq. ft., is considered as a compact house. Because of the project's nature inspired theme, less becomes more by allowing the outdoors to be one with the interior.
Different areas of the house are not bound by walls, you may feel you're outdoors when you are actually inside the house. You may find yourself sitting in the dining area and feel like you're in the garden. The dividers of the different living spaces are wooden walls, wood paneling and glass. The interior areas are built with stone, steel and other natural materials that keeps the nature feel authentic all through out.
This home has enough earthiness and "rust" to keep the nature feel authentic, and just as much style to make it chic in a modern way. The combination creates a very livable home environment that nature lovers will surely enjoy.
It's a home that's feels bigger despite being compact because its opens itself to nature. My favorite area would be the room which looks like a combination of a living room and a book nook. With all the natural colors and textures, you'll feel like you're out of town but still at home with nature!