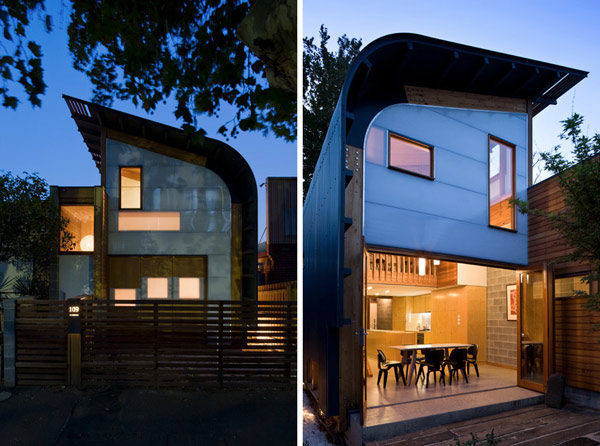 What do you do when you're only given 160m2 to build a home? Reach for the sky of course! This is exactly what Melbourne, Australia-based architecture firm Tandem Design Studio did when they took on this challenging project.
Having very limited space to build a house on is literally a pressure test. However, limited space never put a limit on imagination. This eco-friendly Australian home definitely proved that there is so much you can do even within a limited space.
Anyone will easily notice and appreciate the house the moment they see the exterior. From the curved roof covering one side of the house to the glazed walls of the facade, this little home is surely a big attraction.
If you think the roof was built that way just to make the house look stylish from the outside, it actually plays a far more important role than that. It starts with the solar technology which is energy sufficient. By enclosing a side of the house, it creates a cooler atmosphere for the interior. Other eco-friendly fixtures other than the roof are built into this house such as the hot water heat pump and the rainwater recycling systems.
The key for making this house functional is to appoint the different areas of the house strategically. The architects have to work vertically within a limited foundation. And so, the house was separated into "wings" in order to really give adequate room for every area of the house.
Out of the limited space, homeowners had a stylish dining area with a very "dramatic" chic feel, great for entertaining guests, a kitchen and living area all found in the west wing. The east wing hosts the master bedroom, an ensuite and the 2-car garage. And yes, they all fit! In fact, if you go upstairs, you will find a very cozy guest room along with a study waiting for you there.
This house just proves that it is as big on style and function as any other house out there. Compact is chic and complete–which is exactly what this modern home is.