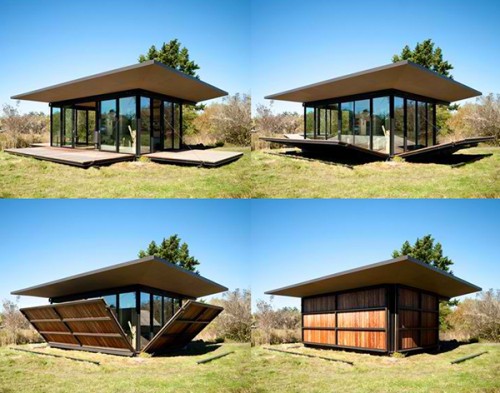 Doesn't the challenges of a camping trip amidst the ruggedness of nature just make you wish you could just fold up your house and take it with you? The adventure's all fun and good but, there are just people out there who rely on a good night's rest over a hot meal to get them going and the only way to get that is by being comfortable.
If you're more of a bedroom person that an outdoor sleeping bag type then you may like this wood cabin designed by Olson Kundig Architects. The entire structure is simple and modern. The walls are made of glass so you can still enjoy the view of nature at the same time being cozy and comfortable indoors.
Now you might be worried about privacy. The most unique feature of this cabin is also it's most essential structure for providing privacy. The wooden floors that look like patios on all three sides of this cabin is meant to do more than just provide more outdoor space. These floors are actually walls that fold up or down whenever needed.
Don't worry about being enclosed inside the cabin, the interiors itself have been designed to make you feel very comfortable you may even forget you were camping in the first place! The center of the house hosts the fireplace and is also ideal for reading a good book or listening to music.
When you want a more open and refreshing feel but you're not ready to go out just yet, you can simply fold down the walls and enjoy the view. I say, this is better than folding my entire house and bringing it to camp. Folding cabin walls is a much better idea!